Unismart Capital Software, Inc., creators of the Funding RoadmapTM, welcomes those in the distinguished community of Certified Public Accountants (CPAs), Accountants and Business Counselors to an opportunity to register as Funding Roadmap Certified AdvisersTM.
This is a professional distinction that will certify you or your accountancy / consulting practice as a credentialed advisor, proficient in the use of our proprietary patent pending software solution called the Funding Roadmap -The Business Plan Reinvented.
The Funding Roadmap is the world's first and only business plan and due diligence reporting system built on a cloud-based platform, designed to help your clients create an immaculate presentation to lenders, investors or potential business partners/prospects. It is composed of an SBA-compliant business plan w/ executive summary, preliminary due diligence report, IASB/GAAP-compliant current and proforma financials, streaming video presentation, commercial/SBA business loan application, and an exhibit repository to upload supporting documents into the loan or due diligence file.
It features remote online collaboration access so you can log on and consult with your client from any location in real time, an online deal flow marketplace frequented by investors where clients can post their deal for funding prospects, and other unique tools to help your entrepreneurial clients get accelerated access to the funding they need for their small business growth goals.
Help your clients plan to stay in business on the Funding Roadmap
Plan in advance to manage any emergency situation and safeguard all due diligence loan documents too. Imagine having to re-create lost financial records to document losses after your clients have lost everything, and have nothing but the shirt on their back.
Long before a disaster or loss of computer data were to ever strike your client's small business (and we pray it never will) you can advise and help them prepare and securely store all of the information for a small business recovery claim with FEMA / SBA all with the Funding Roadmap on the cloud; helping them rebuild faster and keep them as a small business client year after year.
The certification program is accomplished in these 3 easy steps:

Register for a one year subscription to the Funding RoadmapTM for $59.95 so you can familiarize yourself with it features, functionality and benefits, then register for the Advisory Program

Please familiarize yourself with the platform features by listening to/watching the tutorials available as soon as you login, and the webinars we did with the Association of Small Business Development Centers , ASBDC on youtube. Here is one.http://www.youtube.com/watch?v=fSJVJMaTDT8

Engage three (3) clients with a subscription and use of the Funding Roadmap during the term of your own subscription, after which you will be required to sign a document confirming your thorough understanding of the technology for certification.
How Certification can help you...
Distinguish yourself with the use of the official Funding Roadmap
Certified Advisor logo on your website and other printed materials.
As a Funding Roadmap Certified Advisor, you can grow your client base
by publishing your practice's new offering on the CPA directory website.
Be eligible to get referrals from subscribers who need additional help
and are looking for your kind of services.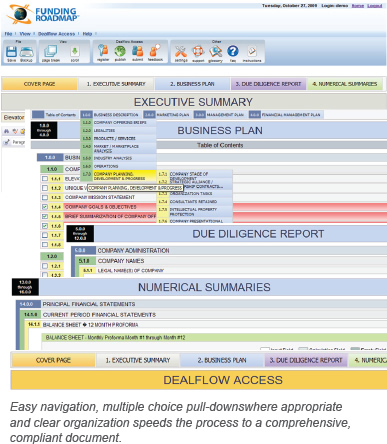 Funding Roadmap helps you to easily organize and build your presentation in one central location.
Collaborate with your partners anytime from anywhere,
Benchmark your steps so you never miss any important ones.
Keep it current for the changes you make along the way.
Make better decisions with our multiple choice answers.
Create SBA and GAAP compliant financial statements with built in calculations which economically guides you through to an executable plan.
Includes disaster proof protection with online access.
Tell your story with passion and commitment using our video pitching platform.
Includes our online marketplace to expand your access to a world of possible investors and lenders.
Far exceeds old fashioned business plans and templates and is a quick, organized surefire way to apply for capital.